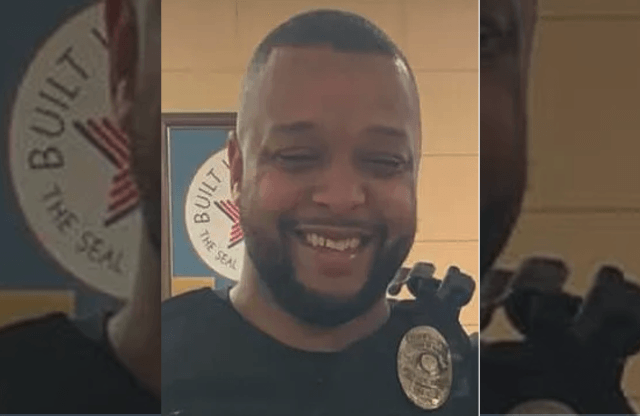 Share and speak up for justice, law & order…
GASTON COUNTY, N.C. — An officer with the Ranlo Police Department in North Carolina is charged with first-degree murder due to a fatal shooting that occurred while he was off-duty, according to reports.
Kwaku Riley Agyapon, 34, is accused of using his service weapon to kill Juan Nikely Avalo, 33, at the victim's residence on Burlington Avenue in the small town of Ranlo at about 2:15 a.m. on Jan. 1, the Gaston Gazette reported.
At the scene, officers found Agyapon, who was off-duty at that time. Agyapon, known as "Riley," had been involved in a domestic dispute, according to authorities.
Police said Agyapon was stabbed multiple times by Avalo, but then discharged his service weapon and shot the man.
Ranlo police said Avalo was taken to the hospital where he later died, according to WSOC-TV.
The criminal case was handled by the North Carolina State Bureau of Investigation. They obtained an arrest warrant charging Agyapon with first-degree murder.
Agyapon was transported to the hospital after the incident and, upon his discharge, was booked at the Gaston County Jail and later moved to the Cleveland County Jail.
Following the deadly encounter, Ranlo Police Chief Jimmy Lunsford said the officer — who was recently hired in August — was placed on unpaid administrative leave, pending an internal investigation.
However, he was quickly terminated from the police department after he was charged with first-degree murder Sunday morning, according to authorities, the Gaston Gazette reported.
Ronlo Town Manager Jonathan Blanton and Chief Lunsford hand-delivered the termination notice to Agyapon while he was in the Cleveland County Jail.
According to an internal police investigation that transpired after the homicide occurred, Agyapon remained in contact with the accuser in a Nov. 28 domestic dispute at Avalo's residence on Burlington Avenue.
In that dispute, Avalo was accused of assaulting and threatening a woman.
Ranlo town officials declined to say whether Agyapon violated police department policy by remaining in contact with the accuser in the dispute. There was also no mention of self-defense as justification for the shooting, although it seems likely to be used during court proceedings.
As a new-hire, Agyapon was four months into a 12 month probationary period with the police agency.
The notice of termination delivered to Agyapon at the neighboring county jail — where he is housed for safety reasons — on Jan. 10 lists his arrest, the first-degree murder charge he faces, and his current incarceration without bond as causes for his termination.
Agyapon refused to sign the termination paperwork, according to a handwritten note jotted at the bottom of the notice, Gaston Gazette reported.
Blanton confirmed with WSOC-TV that Agyapon was not acting as a police officer at the time of the shooting.
"Incredibly shocking, disappointing, and disheartening with the circumstances of the last few days. Our hearts, prayers, and thoughts go out to everyone involved, from the victim to the victim's family, to the officer's family, to everyone that's been affected by this," Blanton said.
Ranlo is a small suburb of Charlotte in Gaston County. As of the 2020 census, the town population was 4,511.
Share and speak up for justice, law & order…
Continue Reading