[ad_1]

Share and speak up for justice, law & order…
EDWARDSVILLE, Ill. – The driver who struck and killed an Illinois police officer while he was laying spike strips during a vehicle pursuit has been sentenced to life in prison plus 13 years, according to a report.
Officer Brian Pierce Jr. of the Brooklyn Police Department in St. Clair County, Illinois was fatally struck by a fleeing suspect Aug. 4, 2021. The Office of the Madison County State's Attorney Thomas Haine reported that 24-year-old Caleb Campbell has been sentenced after being convicted of first-degree murder in the case, WSIL-TV reported.
"The loss felt by the family and loved ones of Officer Pierce is unimaginable. There is no sentence that could even begin to give them a sense that justice has been adequately served. Officer Pierce and his family will remain in our prayers," Haine said.
He added, "As I've stressed before in this case, fleeing from the police is always wrong and dangerous, and if an officer dies as a result of such actions, those responsible for killing the officer will face murder charges."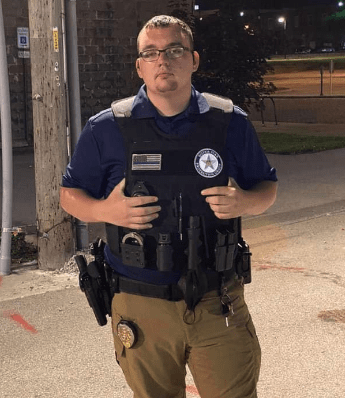 The Officer Down Memorial Page provided the following details in tribute to Officer Pierce:
Police Officer Brian Pierce was struck and killed by a fleeing vehicle while attempting to deploy spike strips on the McKinley Bridge during a vehicle pursuit at about 3:00 am.

Other officers from Brooklyn had started pursuing the vehicle following an incident at a local nightclub. Officer Pierce was attempting to deploy the spike strips on the bridge just prior to the state line when he was struck. The vehicle continued to flee into St. Louis, Missouri, where it was later found abandoned.

Approximately one hour later, as officers and detectives were conducting their investigation at the scene of the incident, another car drove through the police line at a high rate of speed. Officers and one of the occupants exchanged gunfire. The driver was wounded, and all four occupants were taken into custody.

The driver who struck Officer Pierce was apprehended in Missouri. He is charged with first-degree murder, failure to report a crash involving a death, reckless homicide, failure to stop after a crash involving a death and aggravated fleeing or attempting to elude police.

Officer Pierce had served with the Brooklyn Police Department for nine months and had previously served with the Spillertown Police Department for two years. He also served with the Makanda Fire Department. He is survived by his parents.
According to WSIL-TV, the sentence handed down by Associate Judge Neil Schroeder breaks down like this:
A term of natural life in prison for first-degree murder
10 years for failure to report an accident involving injury or death
Three years for failure to stop following an accident involving injury or death
Share and speak up for justice, law & order…


[ad_2]

Source link