[ad_1]

Share and speak up for justice, law & order…
CHANDLER, Ariz. – The Chandler Police Department in Arizona released body camera footage on Thursday of a confrontation between officers and a suspect armed with a rifle late last year.
The officer-involved shooting (OIS) took place shortly before noon on Nov. 23 as Chandler police responded to a report of a residential burglary in progress at a home on East Polley Place, KPHO-TV reported.
A resident who wasn't home at the time called 911 after his surveillance cameras alerted him to motion, showing an unknown car backed into his driveway and an intruder wearing a black hooded sweatshirt, white pants, a white mask and carrying a hammer was inside the house.
Responding officers heard noises coming from inside the closed garage. Moments later, the door went up and bodycam video shows the suspect, later identified as 30-year-old Cody Allan Smestad, hiding behind a vehicle. Officers ordered the man to come out, yet he quickly retreated inside the residence.
Moments later, a bodycam worn by a detective positioned near the back of the home shows Smestad standing on the back porch armed with a rifle. The detective ordered the armed suspect to drop the weapon, but he remained non-compliant.
The detective then fired from a position of cover behind the wall when he believed the suspect was turning toward a colleague who was now in the backyard, and feared the officer's life was in danger.
Images of the rifle carried by a suspect who was fatally shot by police.

(Chandler Police Department)
Multiple videos show both officers continue ordering Smestad to drop the rifle, yet he refused to comply. A second officer eventually fired when he thought the suspect was turning towards him.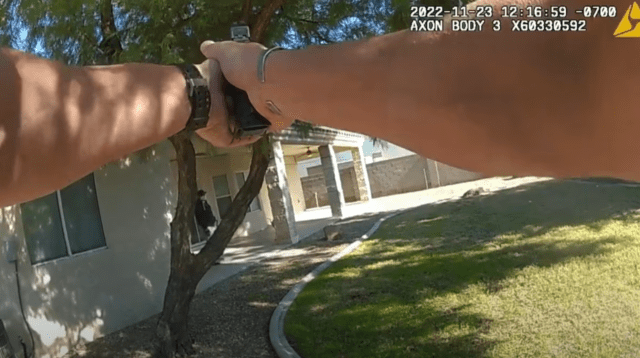 Smestad was transported to an area hospital but did not survive. No officers were injured during the encounter, KPHO-TV reported.
WARNING: Video contains graphic content and language, viewer discretion advised
Share and speak up for justice, law & order…


[ad_2]

Source link