[ad_1]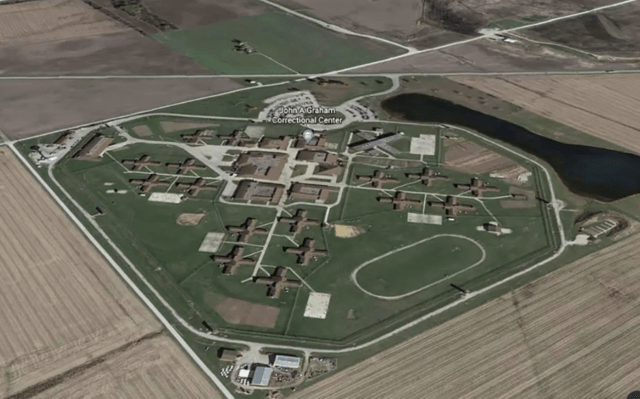 Share and speak up for justice, law & order…
HILLSBORO, Ill. – Eighteen correctional officers and other staff members at an Illinois prison were taken to hospitals Wednesday once they became ill after responding to one or more inmates suffering "severe discomfort," according to a prison officials.
The incident occurred at the John A. Graham Correctional Center in Hillsboro as employees became sick once they responded to a "medical incident involving individuals in custody who appeared to be under the influence of an unknown substance," said Naomi Puzzello, a spokesperson with the state Department of Corrections, reported the Associated Press.
According to Anders Lindall of the American Federation of State, County and Municipal Employees Council 31, an employee union, correctional officers and other staffers who responded to assist during the emergency became ill, some violently, when they went near the affected inmates.
"Those who were in proximity to the inmate were immediately overcome with a variety of symptoms: Lightheadedness, dizziness, vomiting or feeling nauseous," Lindall told the AP.
Officials said 18 prison employees required treatment at area hospitals. An undisclosed number of inmates received treatment in the health care unit of the prison about 65 miles northeast of St. Louis, FOX News reported. 
The situation was described by FOX 2 St. Louis as a potential "mass overdose" between inmates. The news outlet cited one law enforcement official who said a call went out between local agencies for NARCAN to be rushed to the prison facility.
Puzzello said an Illinois State Police hazardous materials team is investigating the puzzling occurrence.
"All staff members who may have potentially encountered the unknown substance were also sent to a local hospital, as a precaution. All staff are stable currently and many have already been discharged," Puzzello said.
Many staff members were treated at Hillsboro Area Hospital (HAH) in Hillsboro while others received care HSHS St. Francis Hospital in Litchfield, about 10 miles west, due to the volume of patients.
Lindall said a union meeting was taking place at the prison when the mass exposure occurred. They canceled the meeting and began transporting colleagues to area hospitals while also alerting family members and providing additional assistance.
Although most of the employees requiring medical treatment were subsequently released, several others were kept for observation and testing to determine the cause, the union leader said.
A spokesperson with HAH provided FOX 2 with a statement.
"Hillsboro Area Hospital has provided care to patients that have been transported from Graham Correctional Center," the spokesperson said. "Hillsboro Area Hospital received eight patients. All patients are currently in stable condition and will continue to be monitored as needed. The initial 911 page was sent out around 2:38 p.m., and this is an ongoing situation. Hillsboro Area Hospital implemented our mass influx plan. All transported individuals were provided immediate care, including decontamination. The Hillsboro Hospital Administrative Team would like to thank our team members, Local EMS, Law Enforcement Officers, and County EMA for quick assistance."
The employee union's state council has expressed increasing concerns regarding prison employees coming in contact with dangerous substances, FOX reported.
"The issue of exposure to harmful substances in prisons is increasing," Lindall noted. "AFSCME has been sounding the alarm for months to tighten up the protocol for both incoming mail and visitor screening."
Graham Correctional Center is a medium-security prison. It has the capacity to house 1,596 adult males, and  currently houses 1,328 inmates.
Share and speak up for justice, law & order…
Continue Reading


[ad_2]

Source link